Do You Own Rental Property in Wake County - North Carolina?
You can trust Schambs Property Management for the finest property management services in Raleigh, Cary, Apex & beyond.
If you are a resident looking for a place to call your home in Raleigh, Cary, Apex and beyond, look no further. Schambs Property Management may have just the perfect property for you. We maintain a wide variety of unsurpassed residential rentals in our portfolio, which includes a multitude of single-family homes, duplexes, quadruplexes, townhomes, and condos.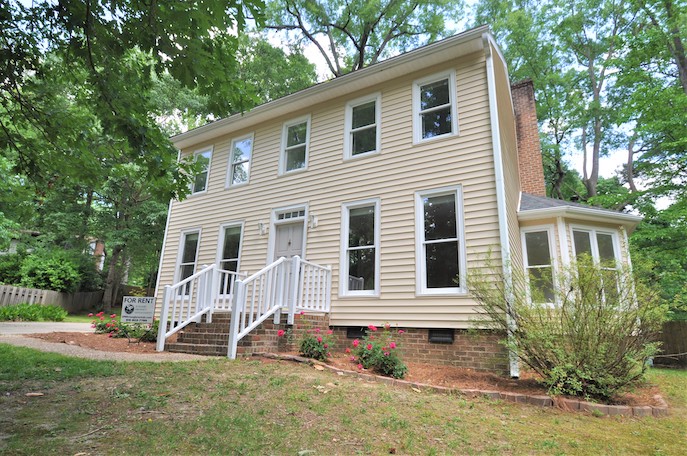 If you own a rental property in Raleigh or surrounding areas, our team can help you manage and grow your investment to significant levels. We have the know-how, resources, and experience needed to handle every aspect of your rental properties. We can consummately handle asset management, vacancy marketing, applicant screening, routine inspections, repairs, and maintenance, as well as attend to resident's concerns.
On the Schambs Property Management website, you'll find more information about our services and how you can manage your landlord account. Utilizing our cutting edge management software, our landlords are able to check their latest statements, invoices, and reports.
Our residents are also able to pay their rent electronically, request repairs, access their lease documents, and much more by utilizing their online portals. Please don't hesitate to contact the Schambs Property Management office directly in the event you have any questions or need any type of assistance.
Rental Management in Wake County
We are a locally owned and successful property management company with over 10 years of experience. Our centralized location allows us to effectively manage rental properties in Raleigh and its surrounding areas.
We are versatile and flexible enough to adapt to any unique requirements your property may possess. Our range of services for landlords includes developing effective rental contracts, listing properties in MLS as well as a myriad of websites, rent collection, handling tenant evictions, resident screening, conducting property inspections, facilitating maintenance and repairs, as well as carrying out monthly financial reporting. Our landlords also enjoy monthly electronic rental disbursements free of charge.
If you are in search of an attentive and qualified property management firm to promote and manage your rental, please contact us and let us show you what we can do.
What We Do
Property Marketing
We are a professional residential management company with years of experience servicing Raleigh, Cary, Apex and the rest of Wake County. As a result, we understand how invaluable the proper marketing and advertising your property to potential renters is. Our skills, coupled with experience helps us to employ and focus our time, resources and superior competitive strategies, to locate and attract quality residents. Consequently, your property will experience minimal vacancy rates, guaranteeing you the best returns on your rental investments.
Tenant Screening
Attracting quality residents is easier said than done. Some potential tenants will do what they can to present what a landlord may only wish to see. It is for this reason that thorough screening of applicants is an absolute necessity in today's age. At SPM, we have in place a meticulous screening process, whereby applicants can complete and submit a comprehensive rental application, all done online through our website. After receiving an application, we conduct an extensive background check of criminal records, credit history, prior rental performance and employment/compensation confirmation.
Rent Collection
Although collecting due rent from tenants might seem like a pretty straightforward task, DIY landlords soon realize that it can prove to be exhausting, especially if you have difficult tenants. Soon, owners may face challenges such as past due rent and even evictions due to non-payment. The expectation of timely rent payment is made clear to all our tenants during the application and screening process. Consequently, rent is collected and delivered to you on time.
Scheduled Property Inspections
We help you save valuable time and money by carrying out routine property inspections. Our experienced team will conduct annual visits to the property to inspect and verify that your property remains in good condition. In the event we discover any existing or potential property damage, we swiftly take proper corrective action. This proactive approach keeps our residents accountable and preserves the value of your investment.
Maintenance of Properties
Our team of specialists ensures that your property remains well maintained. This allows us to reduce the frequency of repairs our managed properties require, as well as the amount of time and money you spend on repairs.
While we have no ownership role with any companies in our contractor pool, our contractors offer our landlord clients preferred pricing due to our volume of business. Our contractors are also counseled extensively with respect to appropriate on-site conduct, expected levels of workmanship/professionalism, appointment scheduling, and overall demeanor when communicating with your tenants.
Evictions
Evicting a tenant is not pleasant and never wanted, but at times it is unavoidable. Handling a problematic tenant is never an enjoyable experience but by working with us, our clients pass those worries over to us.
If an eviction becomes necessary, SPM will utilize an attorney well versed in tenant/landlord law. This expedites the eviction process, ensures the lawsuit is properly processed, and that our landlord's losses are minimized to the greatest extent possible.
We follow a strict eviction procedure whereby we handle the entire tenant eviction process from start to finish on behalf of our clients.
Financial Reporting
Being a professional property management company servicing Wake County, we strive to provide our clients with the best strategies, tools, and resources for their investment. For instance, we provide our landlord clients with online, anytime access to our internet based financial reporting software, which enables them to access relevant financial information about their property. As a result, they always have adequate, pertinent information to aid in their decision-making process, budgeting, tax preparation, etc.
Why Choose Us
At Schambs Property Management, we take pride in providing top-notch quality services to our landlord clients. Regardless of the property's value or location within Wake County, we handle your investment as if it was our own. The result is that our clients are able to relax with the knowledge their investments are in capable hands.
Besides assisting our landlords to grow and maintain their rental investments, we strive to establish and sustain strong mutual relationships with both our landlords and residents.
We understand how careful and considerate you were when it came to investing in your rental property. Hence, we can see why you are equally determined to acquire only the best property management company to manage your investment in Raleigh or surrounding areas.
About Raleigh - North Carolina
About The City
The capital of North Carolina, Raleigh has tons of interesting and fun things to do and places to visit. Whether you are visiting the city for a short stay or you are here for the long haul, you can be sure there will be something unique to immerse your senses.
Spice things up by sampling the flavors of southern cuisine, try out a couple of artisan spirits and craft brews, and enjoy music from our local bands. Alternatively, rollick in bluegrass festivals, discover rare treasures and gifts at local boutiques, and broaden your horizons with the amazing array of exhibitions put up by visual and performing artists.
Read on to learn more about the city:
Quick Description of Raleigh - NC
It is a well-known fact that Raleigh leads in terms of the quality of life it offers to its residents. As such, you can be sure of having the time of your life when you in this ancient city. Its Carolinian authenticity is developed even further by the passionate local communities living here.
Visiting Raleigh, to this end, will be more than just your atypical trip to one of the most blossoming of the metropolises in the South. You will feel energized and enriched by the smart and savvy locals, the awe-inspiring history, and the breadth of knowledge there is to take in from this city.
History of Raleigh
Historically founded in 1792, Raleigh is North Carolina's capital. It was named after the explorer Sir Walter Raleigh on account of his efforts to try and establish the first ever English colonies in the New World back in the 1580s.
Additionally, Raleigh is the only capital that was established and planned out by a state as the official seat of government. Today, it ranks among the largest of cities because it forms part of the larger Research Triangle Region comprising Chapel Hill, Durham, and Raleigh.
The founding fathers named Raleigh the City of Oaks on account of the trees found in the location. The city has continued maintaining its grassy parks and wooded tracks. It is also the home to the North Carolina State Fair, the largest annual event in the region.
Some of the major historic sites found in the city today include:
The North Carolina State Capitol

The North Carolina Executive Mansion

Historic Oakwood
What Raleigh is Known For
Raleigh has a wealth of interesting activities, scenes, and places. This includes:
a) Shopping
Seasoned shoppers will be impressed with the vast array of popular retail stores, locally owned shops, and boutiques in the city. Of particular note include the Raleigh Flea Market, Cameron Village, North Hills, and White Oak Crossing among others.
b) Cuisine
The city also boasts amazing cuisine served up to satisfy even the direst of cravings. Local menus range from traditional Southern cooking and brewpubs to upscale fine dining. You might also want to pop into the 21+ craft breweries, 2 distilleries, and 3 wineries in Raleigh.
c) Nightlife
Warehouse, Moore Square, Glenwood, Fayetteville, and the Capital districts offer live music performances, entertainment, concerts, and live DJ opportunities. All of these combine to provide an unforgettable nightlife experience for those who are looking for it.
d) Education
In terms of education, the principal universities and colleges in Raleigh include:
Meredith College
Norman Adrian Wiggins School of Law (branch of Campbell University)
North Carolina State University
Saint Augustine's University
Shaw University
Shepherds Theological Seminary
Southeastern Baptist Theological Seminary
The Chef's Academy
Wake Technical Community College
William Peace University
e) Parks and Recreation
For a day out in the sun, you'll be pleased to note that there are 9000+ acres of parkland and close to 1300 acres of water in Raleigh. All of these offer year-round fun and recreational activities. The city also has tons of hiking, jogging, and walking trails connected to the 200+ parks found locally.
f) Sports
If you an outdoorsy sports enthusiast, then you'll be glad to be in Raleigh. From men's pro soccer and the Carolina RailHawks to the baseball fun offered by the Mudcats, the city is also home to college athletics and stock car racing opportunities.
Raleigh is one of the most diverse of cities in the South. Apart from the wonderful culinary delights and artistic side, the city also provides a rich heritage and history to the founding of our collective nation. Whether you plan on visiting it for a week or you are relocating, one thing is for sure – you'll never tire of this North Carolina capital.